The Central Union of Turkish Forestry Co-operatives (ORKOOP)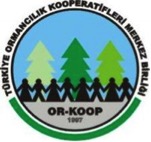 Structure type: Regional or Sectoral Federation
Sector: Agriculture / Forestry
Country: Turkey
Contact details
---
| | |
| --- | --- |
| Phone | +90 312 440 6457 |
| Address | Yildizevler Mahallesi Kişinev Caddesi 730. Sokak No:4 |
---
Organisation profile
Forest Villagers in Turkey; According to 2010 records held in Turkey, 7.073.766 people are living in 21.278 forest villages (2.164.388 people of such villagers are within the forests and 4.909.378 people are adjacent to the forests) and forest villagers constitute approximately 10,55% of the total population and %40,42 of the total rural population of the country. There are 8.228 Agricultural Development Cooperatives with 785.710 members. 3.500 of these are in our forest villages and 2.109 of them are involved in forestry activities. Forest production activities were carried out according to forest management plans prepared by the State Forest Organization.
ORKOOP is a kind of labour and agriculture cooperative. ORKOOP is apex organisation of forestry cooperatives in Turkey. The foundation of OR-KOOP has been legally realized on 11.07.1997. OR-KOOP Central Union with its 2.466 member Cooperatives attached to 28 Regional Unions and with 318.005 members, is continuing to develop as a democratic public movement defending the economical and social rights of the forest villagers. Cooperatives were involved in forest products harvesting operations. As far as the overall production is concerned, it was estimated that about 60% of the total wood production was carried out through the cooperatives in every year.
Marketing opportunities
Forestry labour and agricultural production in forest villages are carried out by families. Women and young people have taken active role in this production process. Being aware of the importance of women and young people in its database, OR-KOOP prioritize the training and organization of them. Forest villagers registered in the OR-KOOP organization database are presently carring out these forestry works. Other hand ORKOOP works projects in agriculture and forestry. It serves as the authority on vocational qualification about forestry works in the country
These Works include reforestation and afforestation of forestry lands and other private forests, production of non-wood forestry products such as mushrooms, rosemary, tyme and sweet bay, administration of hunting. Forestry labour and agricultural production in forest villages are carried out by families. Turkey is the leading country in the world in medical and some aromatic plants. These products are collected in a large part of the forest by forest villagers are exported. Turkey is the leading country in the world in some medical and aromatic plants. A large proportion of non-wood forest products collected and maketing by forest villagers and cooperatives in Turkey.
Forestry cooperatives have business about timber, agricultural products and non wood products. Timbers, agricultural products and non-wood products are processed and marketed by the Forestry Cooperative.
ORKOOP would like to work on joınt projects and cooperate on forestry, agricultural and non-wood products with ICA member cooperatives.