18 May 2015
After the meetings held in Australia in 2014 during Australia's presidency of the G20, Turkey took over the next presidency in 2015. Work has already begun for Turkish G20 Summit to be held in Antalya in 2015. The opening meeting of the business advisory group, the B20 was held on 15 November 2014 in Istanbul's Four Season Bosphorus Hotel.
Attending the meeting were, Ali Babacan, the Turkish Deputy Prime Minister, the Turkish B20 Chairman Rifat Hisarciklioglu, the B20 Presidents of G20 countries and country coordinators or "sherpas", the Turkish B20 Executive Council - Guler Sabanci, Tuncay Ozilhan, Husnu Ozyegin, Mehmet Buyukeksi, Haluk Dincer, Nail Opak, Erdal Bahcivan, Ferit Sahenk, Erol Kiresepi, who are exemplary representatives of the Turkish business world.
They were joined by over 500 businessmen and women from the G20 business world from 40 countries and representatives of related international NGOs.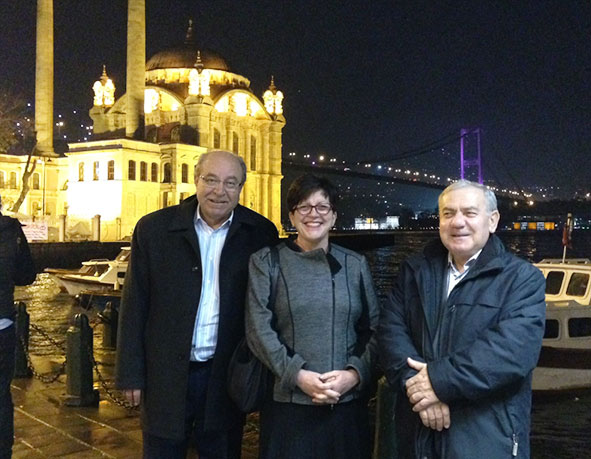 Dame Pauline Green, President of the International Co-operative Alliance, and Shaun Tarbuck, President of the International Co-operative and Mutual Insurance Federation – one of the Alliance global business sectors, were also present at the meeting, together with Muammer Niksarli, General President of the Turkish National Cooperatives Association, an Alliance member; Cem Kaptan, Pankobirlik Representative; Cafer Yüksel, President of ORKOOP and Husamettin Dogramaci, Acting General Manager of Koru Sigorta Cooperative, an ICMIF member.
Opening the conference, Rifat Hisarciklioglu touched upon the importance of G20 and B20 for the world and for Turkey. Mr Hisarciklioglu explained the roadmap for B20 to follow within context of global developments. Taking into consideration the recommendations made in B20 in Australia, he stated that they will follow a path which is participative, reinforcing and embracing.
He also commented that they have been preparing for the 2015 summit since the day they took the B20 flag from Australia. "While the global economy is searching for a roadmap for proper growth, it has become more important to strengthen the cooperation between governments and business worlds. For this reason, the importance of the B20 has also increased. The Turkish year long Presidency of the G20 will be a milestone in this regard," he said.
Mr Hisarciklioglu went on to say that they are aiming to rise even higher the B20 flag they took from Australia, they are building the B20's 2015 process on three main principles, first of which is continuity, and that this is based on the idea of preserving the studies that emerged during previous presidencies. Hisarciklioglu also explained that they think that B20, similar to G20, should have a multi-year agenda.
He stated that in this first meeting, that they will be conducting studies in working groups on commerce, infrastructure and investments, growth finance, employment, SMEs and entrepreneurship, and the fight against corruption, and that each group will be chaired by leaders of large Turkish companies.
---
Picture 1: B20 group meeting in Turkey.
Picture 2: Dame Pauline Green, Mr Muammer Niksarli (left), Mr Hüseyin Polat (right).